A quick online search revealed BrickStone Restaurant & Brewery was a short drive down the road in Bourbonnais. Laughter and lively conversation from diners greeted us when we stepped inside. Plenty of light poured in through large windows, highlighting inviting decor along with cozy booths and tables spread across the tile floor.
From their abundant selection of handcrafted brews and cocktails, Dani ordered the Hyacinth Margarita. Jake and Josh chose Golden Promise—a copper-color Imperial red—while I selected the Cherry Bomb—a fruit ale that offered a perfect balance of hops and subtle tartness from Michigan cherries. The combination with our appetizer of homemade pork rinds seasoned with chili-lime salt was pretty much magical.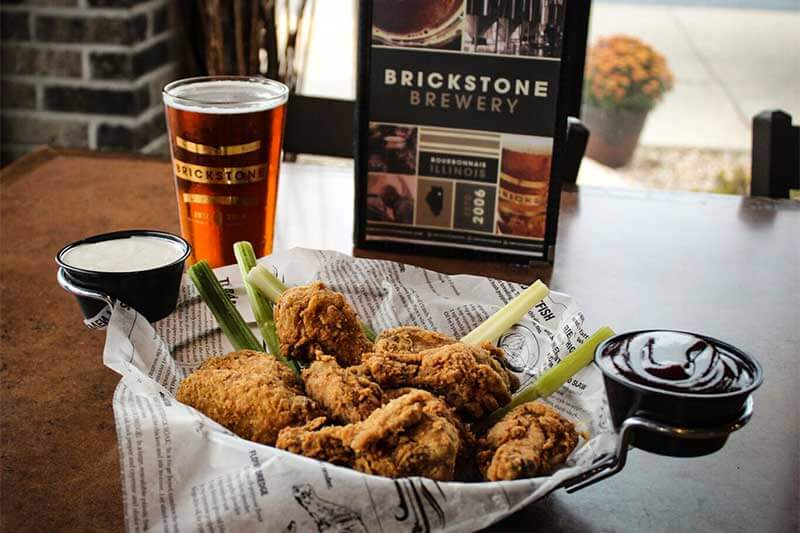 For our meals, we all went for something different. Dani ordered a steak salad covered in bacon and bleu cheese crumbles. Jake got a charbroiled burger topped with smoked Gouda, peppadew peppers and slathered with sun-dried tomato mayo. Josh chose an oven-roasted turkey sandwich layered with thick slices of hickory-smoked bacon, avocado and Swiss cheese, while I went for a grilled chicken wrap mixed with roasted black bean and corn salsa, and chipotle ranch dressing. Since we exchanged samples of each entrée, I can confidently vouch for them all (with extra love for that chipotle ranch accompanying my meal).
For dessert, we ordered two to share: warm, creamy piña colada bread pudding and a salted caramel torte stacked with sweet layers of caramel mousse and chocolate ganache. We rolled out of there just in time to catch our train back to Chicago.
I felt completely satiated in more ways than one. Our last meal in Kankakee County had been amazing. But so had the entire trip. Taking the time to immerse ourselves in nature, and reconnect with friends, was the perfect respite from our frenetic city lives. And with Kankakee County being such an easy train ride away, I knew it wouldn't be long before we'd all be escaping here again.